Cinema Lens design has always been the most romantic profession in my mind.
It combines creators' illusory pursuit of image texture with cutting-edge technology control such as optics, materials science, structural design, and precision machining, and then adds some luck to participate in the multiple constraints of size, weight, cost and assembly difficulty Under the delicate balance of multi-dimensional and complex optical indicators, continuous polishing will eventually become a fascinating cine lens product.
It's really hard. It's like dancing with shackles. Every lens is a work of art condensed from countless wisdom, which is why I like to evaluate cinema lenses.
I'm Youfeng and this is my review of the CHIOPT Xtreme lens.
What kind of company is CHIOPT? Two years ago, when I met the designer of the CHIOPT, I first had this question in my mind.
A brand name that is completely unfamiliar to the field of cine lenses is actually already a top brand in the field of industrial lenses. According to public information on the Internet, its market share of standard industrial lenses ranks first in China and second in the world.
However, unlike industrial lenses that pursue quantitative indicators, the evaluation criteria for cine lenses are obviously completely different, which is a new challenge for CHIOPT.
In the past two years, their lens designers and many photographers, including me, have had some discussions, And today, this lens has finally appeared in front of us.
This is the first lens of the Xtreme series, and it is 28-85mm, the aperture is T3.2, and the F number is 2.8. This is a typical standard zoom configuration, covering the commonly used focal length range, and it is also the most practical configuration.
The lenght for the lens is 23cm and weighs 2.7KG. The size of this lens can be classified as a portable zoom cine lens, but don't get me wrong, the portable zoom in cine lenses is not something you can easily take out alone to take pictures of girls. volume weight.
But for team production, even if it is produced by a very small team, such volume and weight are very friendly. With our commonly used MAVO series cameras, the weight in full configuration is less than 5KG. It can be easily installed on MOVI PRO or such as Shadow 2 this level of stabilizer.
The front port of the lens is a standard 114mm diameter, which is very compatible with accessories. The rear port provides three interchangeable PL, EF, and E mounts.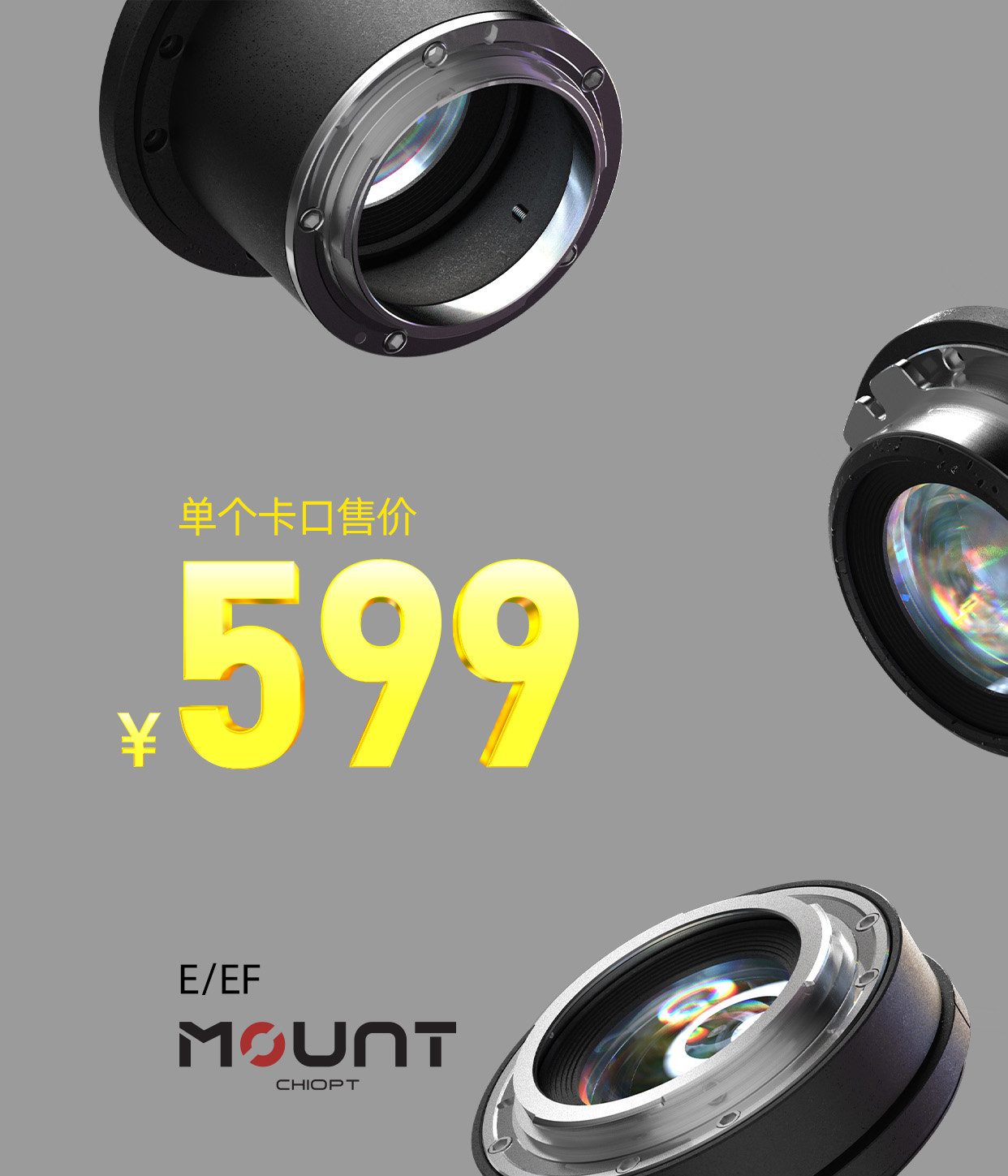 In terms of image quality, we still focus on the bokeh first. The most core suggestion I have given to the designers of CHIOPT in the past two years is to improve the bokeh. In fact, I have never had any expectations. I think I am a designer of industrial lenses. It is difficult for people to understand the importance of bokeh, but when I first shot with this lens, it gave me a pleasant surprise: the bokeh is very natural, the bokeh is soft and delicate, the blurring is uniform and clean, and the whole picture The level is very good. The consistency before and after the focus is also pretty good, and from the wide-angle end to the telephoto end, the out-of-focus performance is consistently good.
In terms of resolution, it may be due to the genes of industrial lenses. The image of this lens is very sharp. For the overall requirements of a movie lens, it is probably too sharp. Even when the aperture is fully opened, there are actually many Photographers want the image to look softer, so maybe some diffusion filters are more suitable for this lens.
In terms of glare, this lens has relatively obvious veil stray light at the telephoto end, while the wide-angle end is relatively mild, the overall control is still very good, the ghosting is relatively weak, and the coating level is indeed nice. I also noticed that other friends said that under some special light angles, there is a heavy stray light, but I don't seem to have detected it for the time being.
In terms of dispersion, there is almost no visible dispersion, which is excellent.
Someone often ask me about breathing effects and distortion. To be honest, I still firmly believe that these two are really not important for cine lenses, but I also tested them in my full version of the lens test video. You can follow my account and have a look.
Overall, this is a standard zoom cine lens that exceeds expectations, and its name, Xtreme, means the ultimate.
To me, it represents the ultimate in practicality. In your pursuit of self-expression, you may choose a variety of unique lenses, but this lens belongs to you no matter what you shoot, you can bring it with you. reliable partner.